This day was a 120 mile ride into, across and out of Death Valley through a wide range of weather conditions for which I did not adequately adapt.  I didn't understand or appreciate the complexity and size of Death Valley.  There were three valleys and three mountain passes, not counting the 3,300 foot high plain where I started or the 3,700 foot high frigid "valley"  where I ended.  The roads were Hwy 374 leaving Beatty, onto Hwy 190 in Death Valley and finally a couple of miles south on Hwy 395 (California's Eastern Sierra Scenic Byway) to Grant.
The day started with breakfast at Gema's Cafe in Beatty.  There I met Diego and Dave, a couple of amiable young men and long-time friends who grew up in Beatty and now work in the gold mines near Elko, Nevada.  Diego drives one of the monster dump trucks into and out of an open pit mine, in all weather, about 25 times a day.  Dave works for a different company in an underground mine.  Both have interesting experiences and are good at telling their stories.  I was so pleased with out meeting that I asked if I could take their picture and write about them in my blog.  They agreed, I took the picture and left.  During the day I thought about them and was excited about including them in this post.  When I got to the motel in the evening I downloaded the photos and was aghast to discover they were out of focus.  My fault, a great disappointment.  So, sorry Diego and Dave, I enjoyed our meeting and will remember it as the best part of this day.  Take care and best wishes for your futures.  You will do well.
The ride started in Beatty with rain and snow falling. The Weather Channel site said partly cloudy with zero percent chance of precipitation.  Must be an illusion, so I rode off towards Death Valley.  Within five miles of leaving town there was no more rain…it was pure snow and high winds.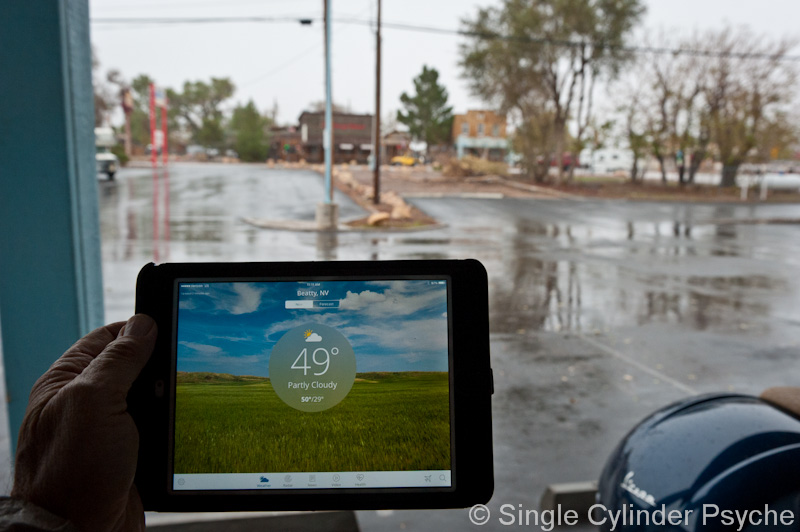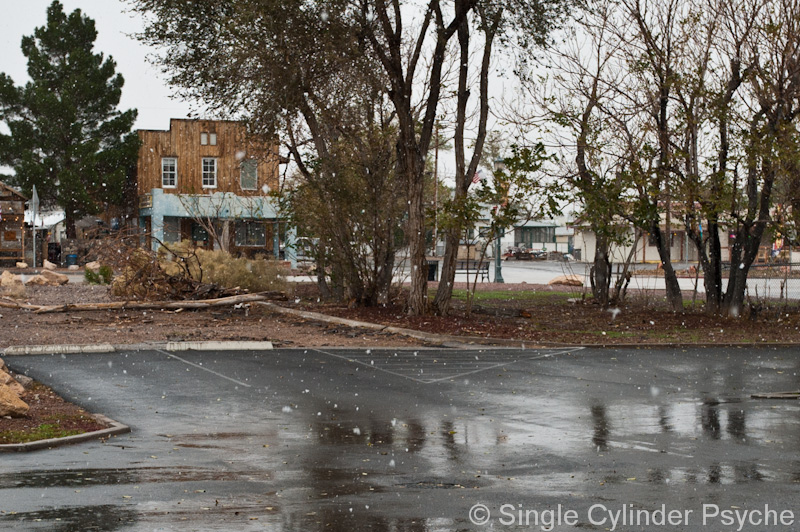 But as I approached Death Valley the skies cleared.  The wind remained.  Looking backwards toward Beatty…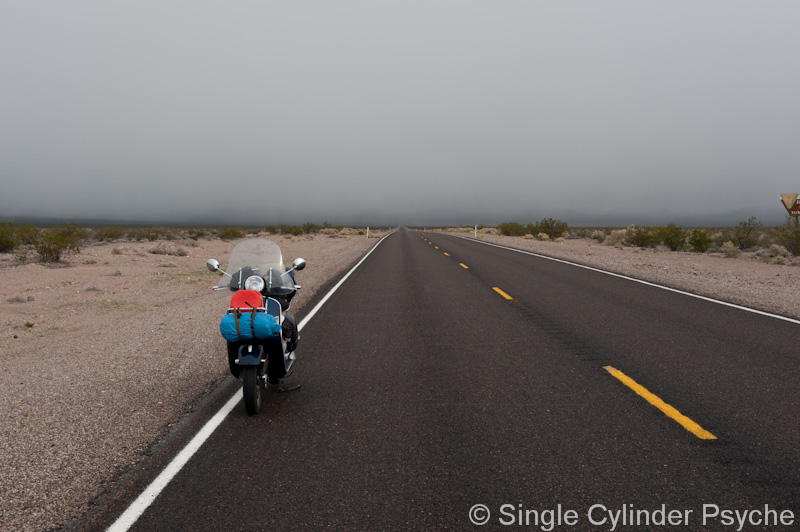 And forwards toward Death Valley…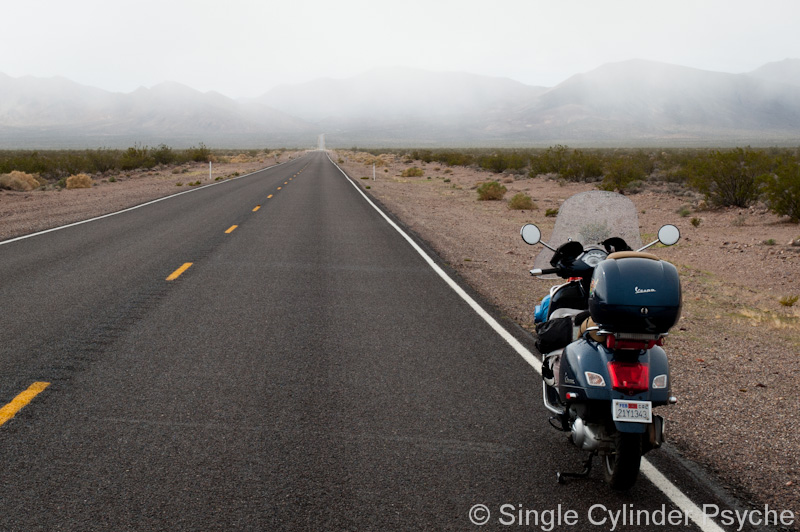 And so on into and through the valley…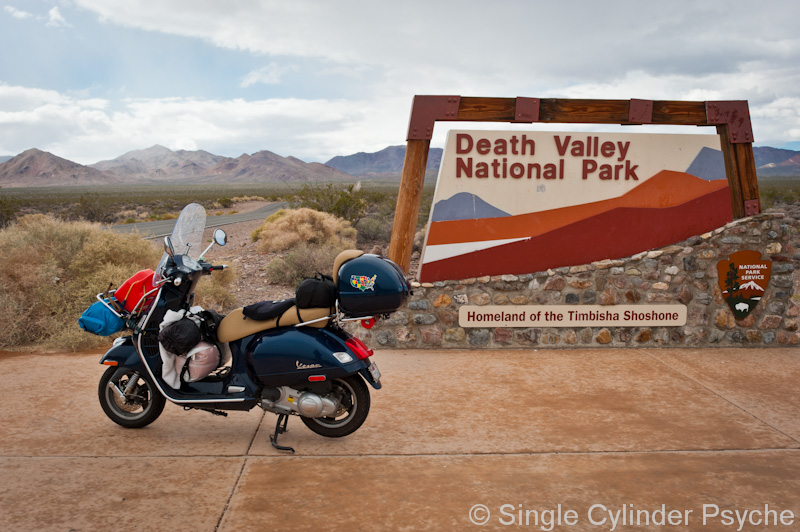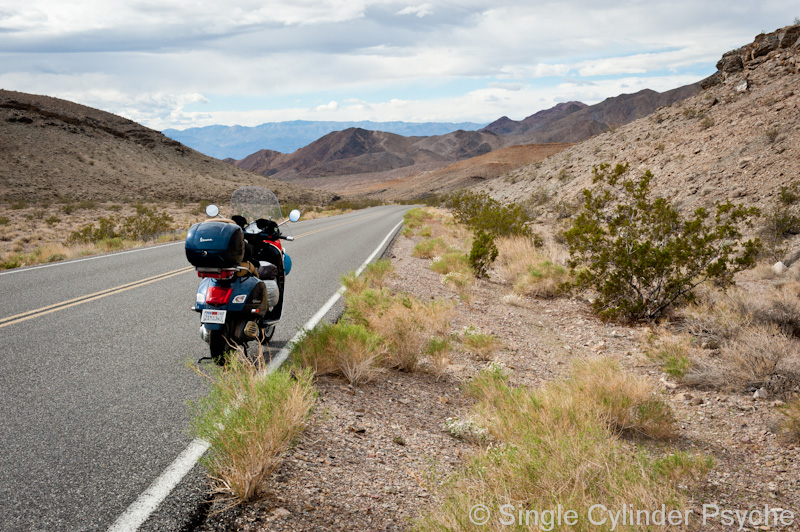 This is called Corkscrew Mountain…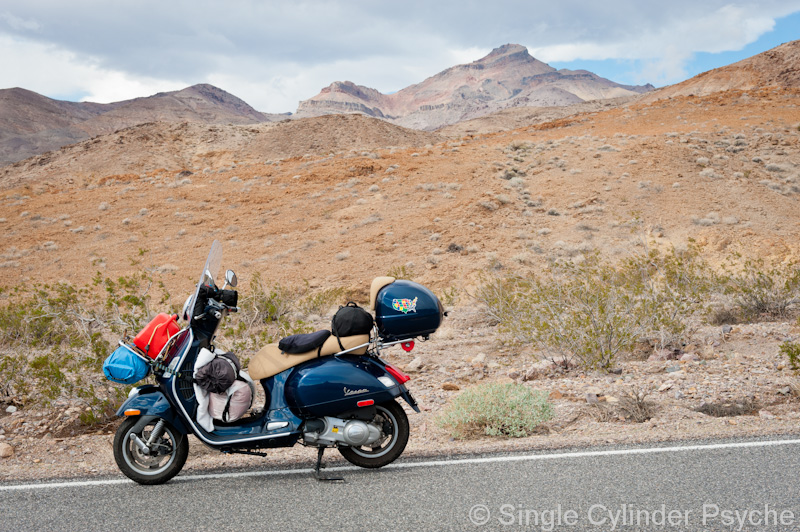 I wasn't sure where I was at this point and since then haven't been able to find this intersection on Google Maps.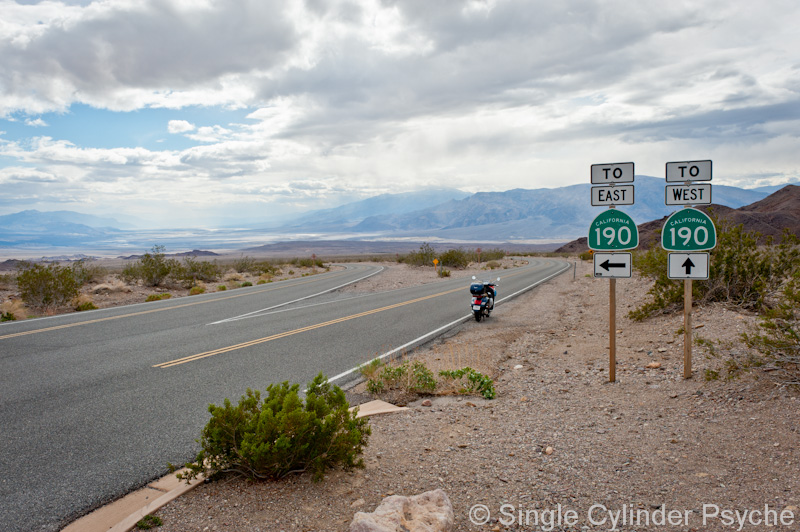 Near the valley floor it was warm so I took off my cold weather layers, as if the warmth would last forever…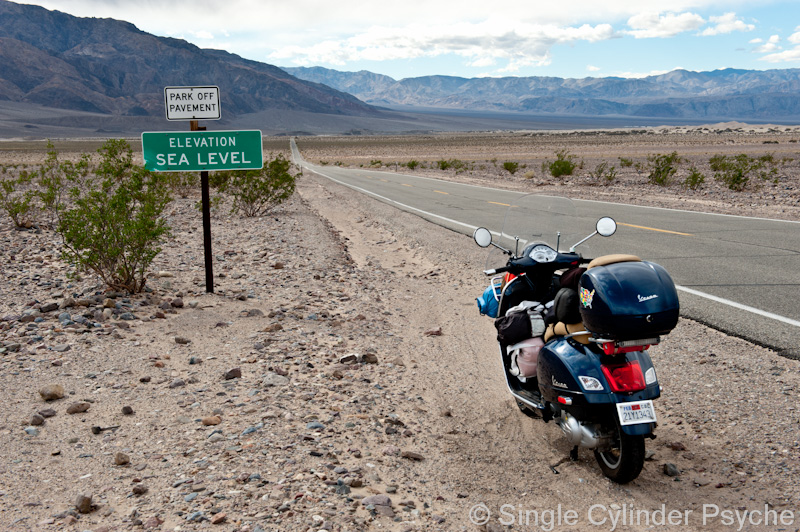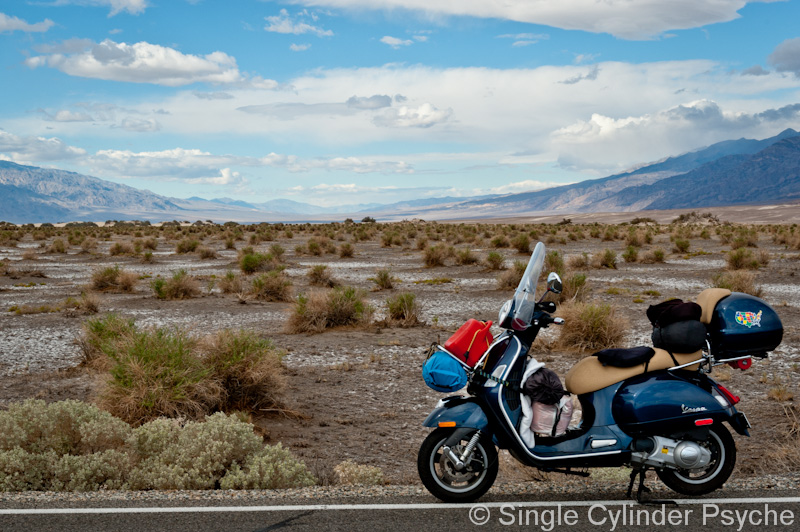 I wasn't sure where I was in the valley so I got out my iPad to look at Google Maps…no service.  So I rode on over three mountain passes, each successively colder than the last, but thinking each would lead me to a warm valley.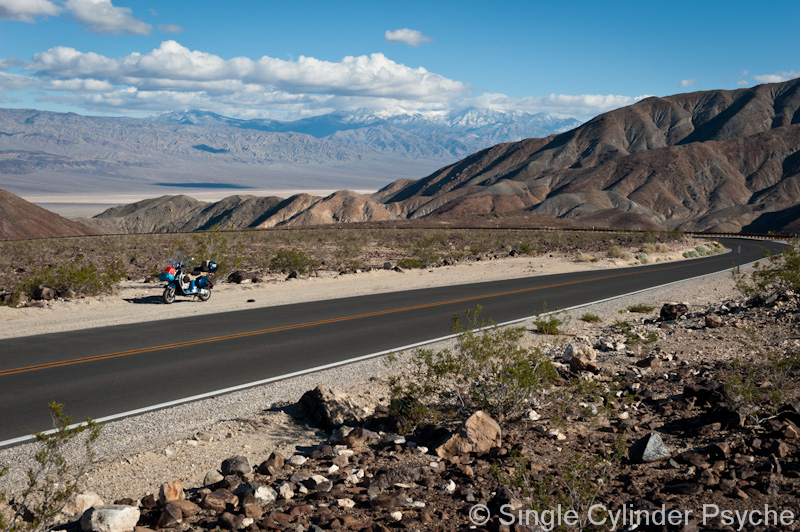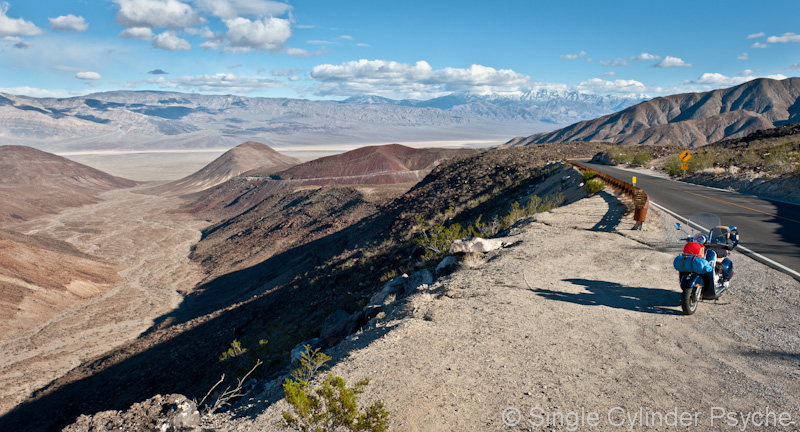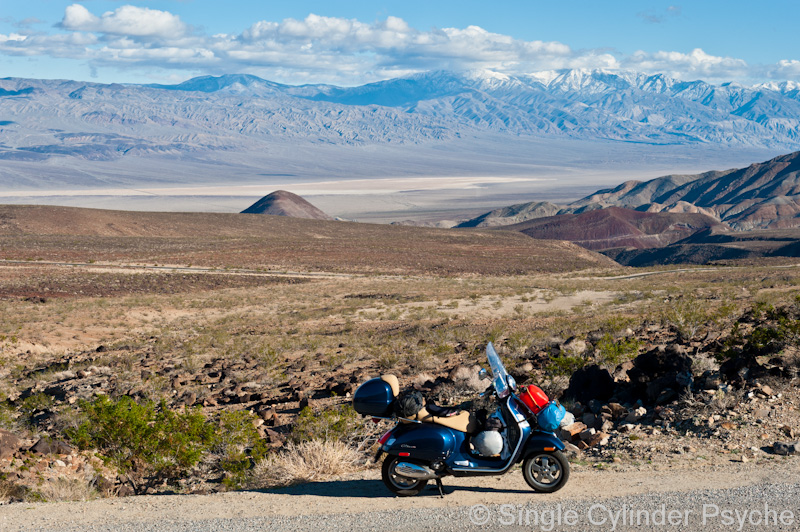 After the first pass I stopped taking pictures.  I was too cold.  I put on some layers, but too little too late.  When I finally got to Hwy 395 I stopped at the first open motel I found, checked in and warmed up.  I hadn't eaten since breakfast so I braved a three mile ride back north to have dinner at the only restaurant in the area.  I must have looked cold because as soon as the waitress saw me she asked if she could get me a glass of warm water.  People in the restaurant were talking about how cold it had turned.
I was disappointed with myself for letting myself get so cold.  When I got back to the motel I tried to warm up again, and downloaded the photos.  When I saw that the one of Diego and Dave was out of focus it was too much.  Discouraged, I went to bed at 7:00, wondering how I would manage to ride out of this ice box in the morning.