The preparation for this trip has been a surprisingly involved process. Looking at maps to determine potential routes has been the easy part, almost an afterthought.  Gathering equipment, preparing the scooter, and deciding which tools, spare parts, clothing and gear would fit in the limited space and be most useful in breakdowns, heat, cold, rain and possible contact with pavement took considerable thought, research and experimentation.  Occasionally I would load up the scooter with what I thought would be a workable "kit" and take a ride.  Good idea.  Things changed a lot.  Below is a log and some iPad photos from one of those test rides.
Shakedown Ride in the Sierras, July 22 – 24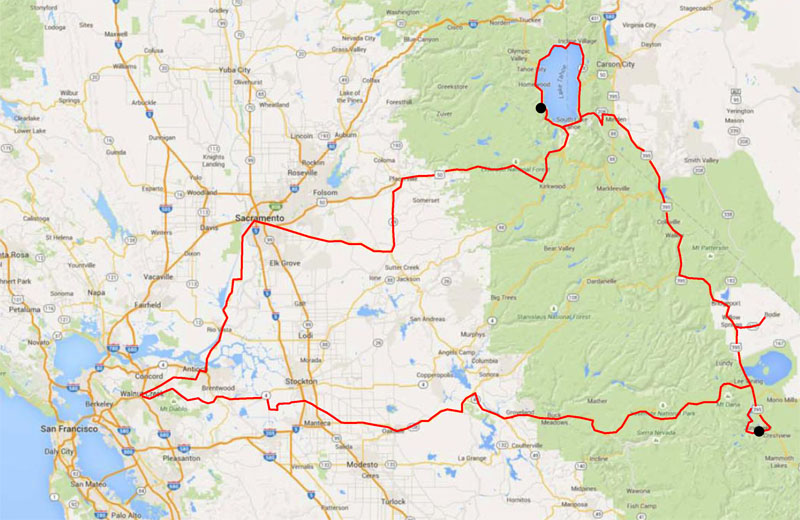 Day 1:  Bay Area to Lake Tahoe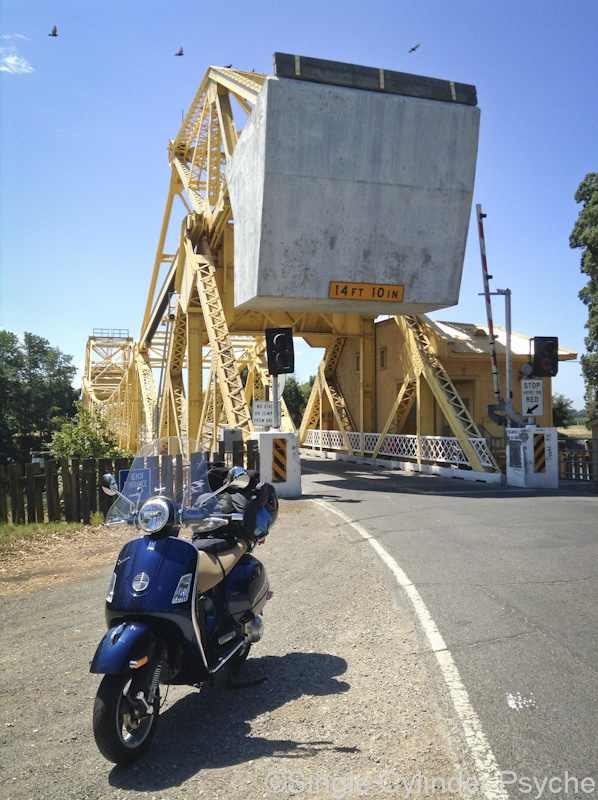 Today was the first of a three-day scooter/camping test ride to see what it's like and how to do it better. OK so far. It was an uneventful but interesting ride up to Lake Tahoe. Tonight I'm camping at D.L. Bliss State Park, just off Hwy 89, two miles north of Emerald Bay. Lots of warnings about bears. Don't feed 'em. Haven't seen any yet, but I haven't given up hope.
Tonight's a test to see if a 60 degree sleeping bag with a reflective survival blanket cover will be adequate in the mountains. Tomorrow I'll have a better sense of how clever or foolish I am.
After setting up camp I backtracked 12 miles into town for dinner at a grocery store and to type this. I need to leave now. I told myself I wouldn't ride at night on this trip and I'm already violating that rule my first night out.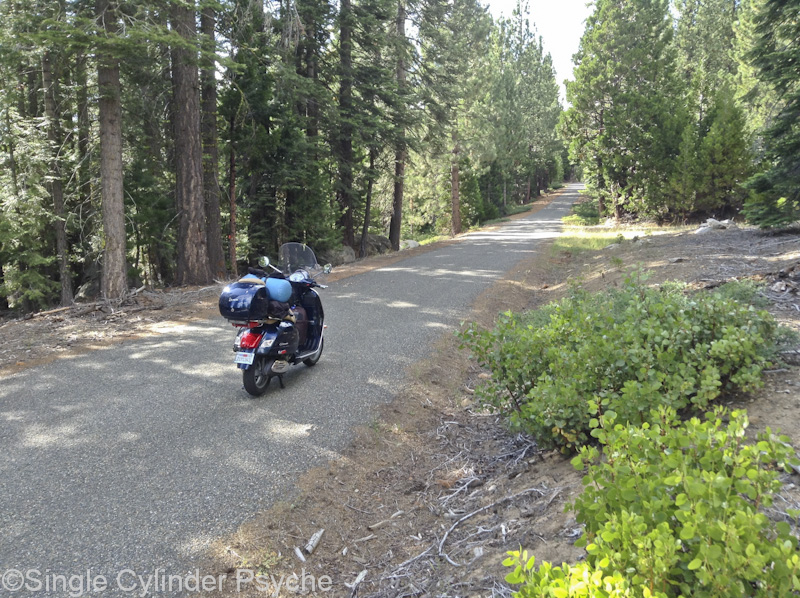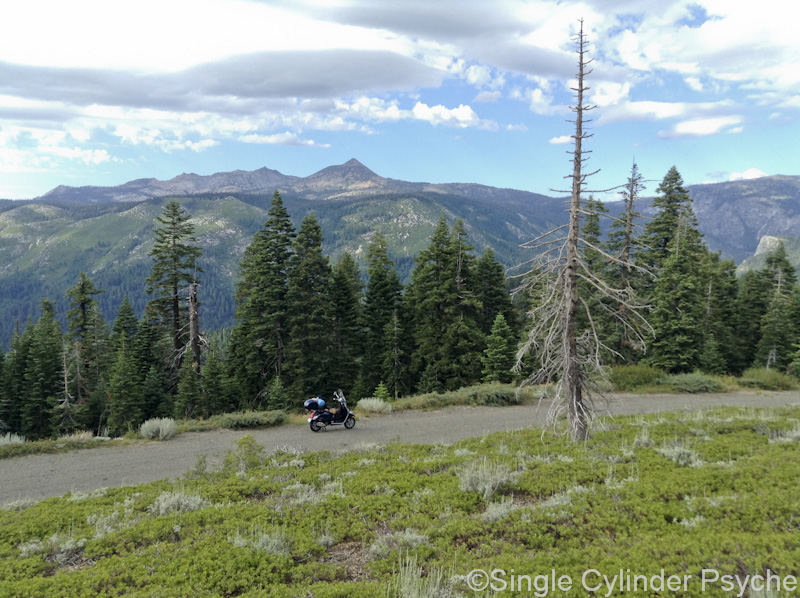 Day 2:  Around Tahoe then Hwy 395 south to June Lake
Be careful what you hope for. On the ride back to camp last night, ten minutes after I sent yesterday's entry, I saw four bears crossing the road in front of me. It was dark. I didn't see them until I was upon them and just happened to turn on my bright headlight. There might have been a collision except for a fairly hard brake and the trailing cub picked up his pace at the last second. This morning my camping neighbor said he saw a bear in my campsite last night.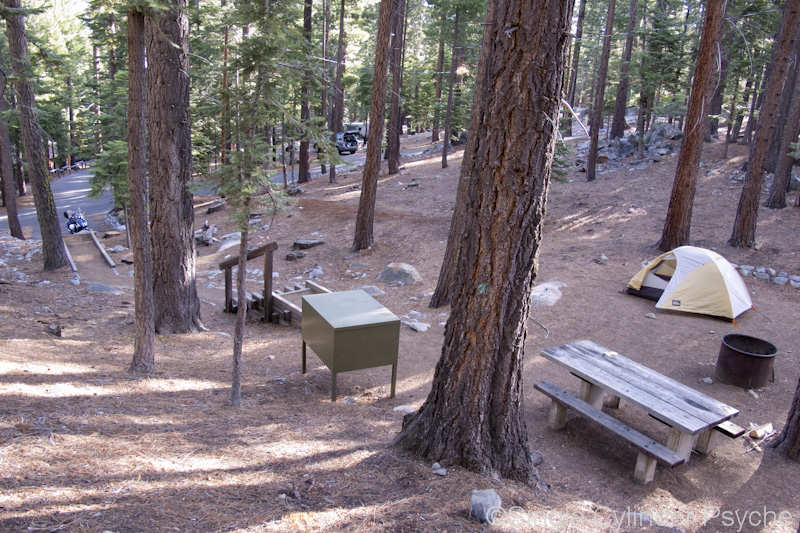 I didn't get to test the light duty sleeping bag last night. I realized as I was going to bed that I had only brought the heavier 30 degree bag into the tent, and left the lighter one outside somewhere. I couldn't remember where and wasn't about to go looking for it, too many bears. I'll test the light one tonight.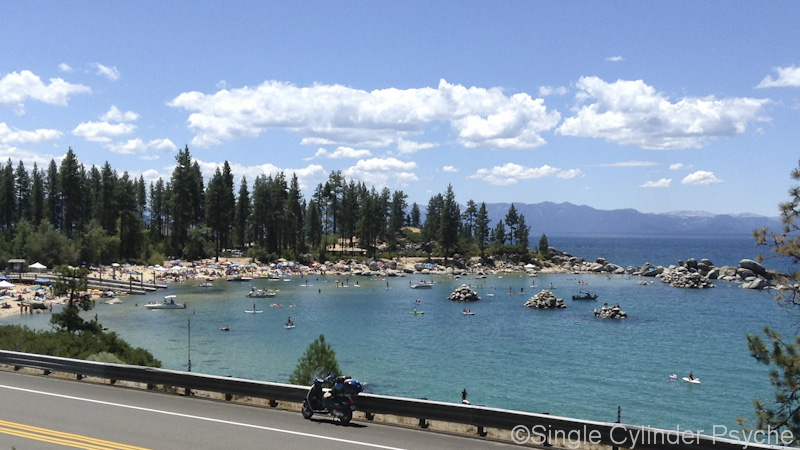 The morning ride around Lake Tahoe was scenic but challenging.  The basin was full.  At every town and beach around the lake's perimeter cars prowled for parking spaces that were not to be found.  Latecomers arriving at their destinations were greeted by "Lot Full" signs, which meant parking at an empty space along the road and hiking down to the beach.
I stopped at Bodie, an old mining town that turned into a ghost town and is now a California State Park. It's at the end of a side road off Hwy 395. I'd never been there before. It took three U-turns to get there.
I had heard of Bodie but didn't know where it was and hadn't planned to visit. I came upon and passed up the Bodie State Park turnoff unexpectedly, spent about a half mile considering what to do, then made my first U-turn and headed back for Bodie, smug in my adventurous spirit. Once on the side road to Bodie, a sign announced that the pavement ended in ten miles. I assumed that would put me at Bodie. It was a little more of a side trip than I anticipated, but "cavalier" was now my middle name so I continued on. After ten miles the pavement did end, but there was no Bodie in sight. Instead, there was a washboard gravel road with a sign warning "Rough Road Next 3 Miles." I sat there for a full minute, listening to the idling engine and contemplating the poorly defined line between adventurous and foolish. I made my second U-turn and, bearing the weight of defeat, headed back toward Hwy 395. But no! What would Teddy Roosevelt or any of the others on Mount Rushmore do in this situation?  I made my third U-turn and bravely but cautiously navigated the three miles of loose gravel to Bodie. It was a rattley ride, but in the end it was worth it, both for the experience of Bodie Ghost Town and for my sense of accomplishment. I would recommend it to a friend.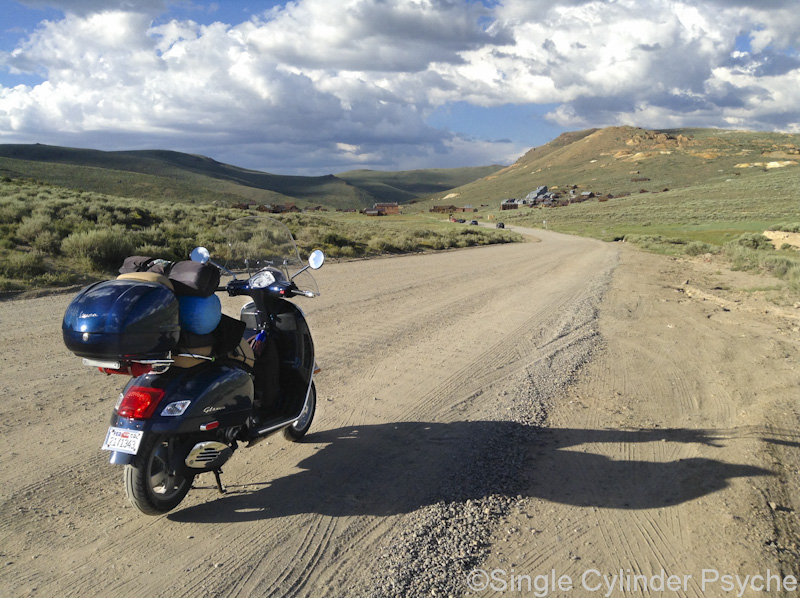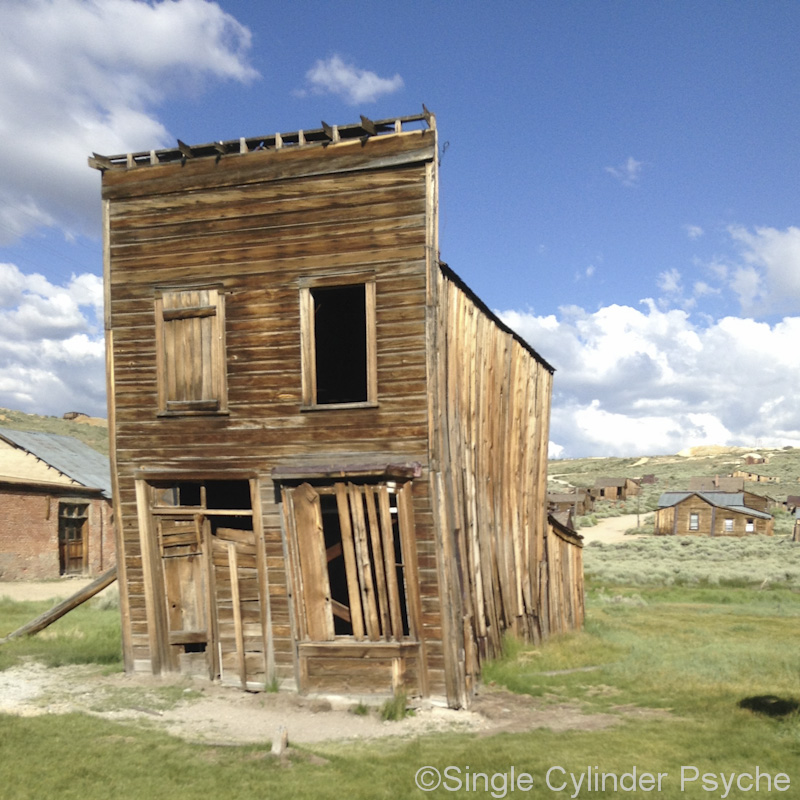 Tonight I'm camping at the Oh Ridge State Park on June Lake. It's cold and windy. The elevation is about 7,800feet.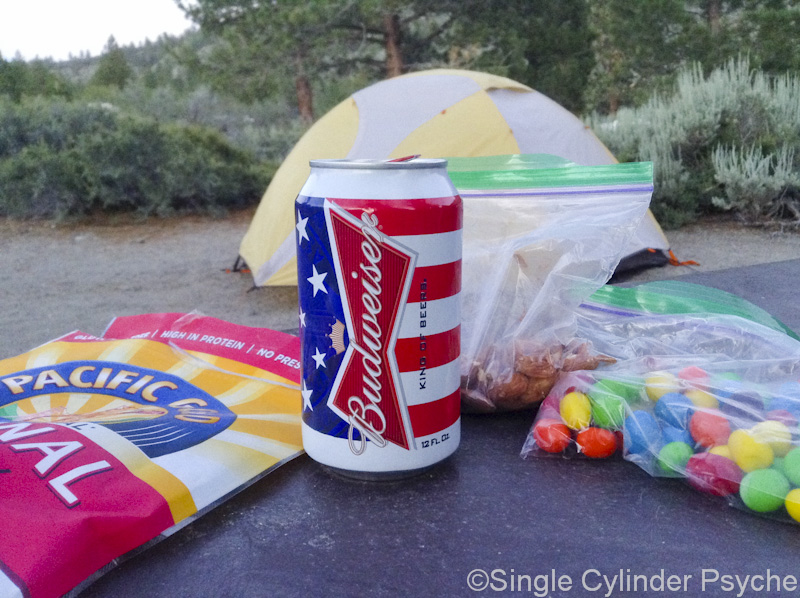 Day 3:  Disturbed sleep, then a ride home
Within our population, there is an element that prefers drama to reason and hysterical reaction over measured action. That element rose to the surface Thursday night at the Oh Ridge campgrounds on June Lake.
There's a heightened awareness about bears at many campgrounds in the Sierra Nevada Mountains. The rangers give you their bear spiel at the entry gate, some even make you sign a form saying you've heard the spiel and agree to pay the (up to) $1,000 fine for leaving food out. All campsites have bear-proof food lockers.
Apparently, on Thursday night at June Lake, one campsite didn't latch the door of their food locker. A little after midnight a bear discovered the open locker, emptied its contents onto the ground and went to work on its treasure of hot dogs with all the fixin's. The man of the camp awoke to the sound of a bear crunching on potato chips, and sounded the alarm by screaming "BEAR" as loud as his frightened voice would allow. The bear retreated into the darkness. Soon there were other men in surrounding campsites yelling "Bear" and "Where did he go?" Someone shouted, "I've called 911."
Sound travels well in the mountain air. I think there were few campers in the balance of the164 sites not occupied by screamers who were not lying awake in their tents wondering if they had any food/toothpaste/deodorant in there with them, and was that rustling sound of the tent wall an investigating bear or just the wind? Ten minutes into the ordeal someone had the bright idea of pressing the "panic" button on their keychain to set off the car alarm, and there-by keeping their own site bear-free. The idea caught on. Chaos prevailed. I lost whatever hope I had for the future of humanity.
Gradually, over the course of an hour or so, things quieted down. The campground Host made rounds in his golf cart to calm those nervous but brave persons still wandering the roads with their whistles and flashlights. Those of us who chose to survive the ordeal hunkered down in our tents could overhear the reassuring voice of this authority figure out there in the dark. We're safe. OK to sleep. For a half hour, then…
HONK…HONK…HONK…HONK…HONK…screamed the panicked car in the site next to me, then stopped.
In their tent…
Him: Why'd you do that?
Her: A bear, didn't you hear a bear?
Him: No, I didn't hear no bear.
Her: Oh, OK, sorry.
Return to silence.
Friday morning as I turned from Hwy 395 onto 120 West towards Yosemite, it occurred to me that my scooter and I share the road with, and depend upon, the same type of individuals as caused the commotion at camp the previous night. Does irrational behavior and hysteria correlate with bad driving? I don't know. May-be. Best to stay attentive and defensive.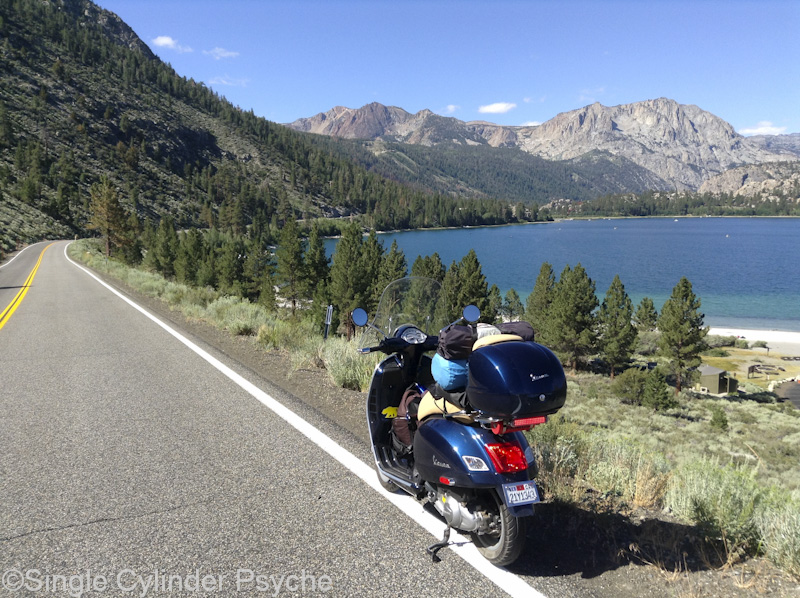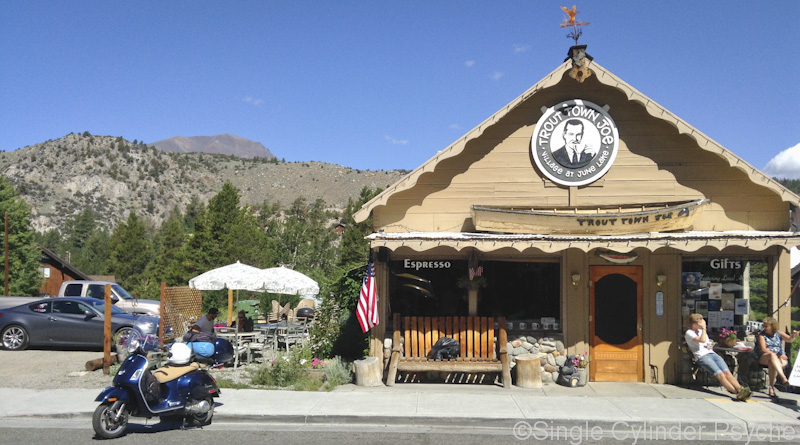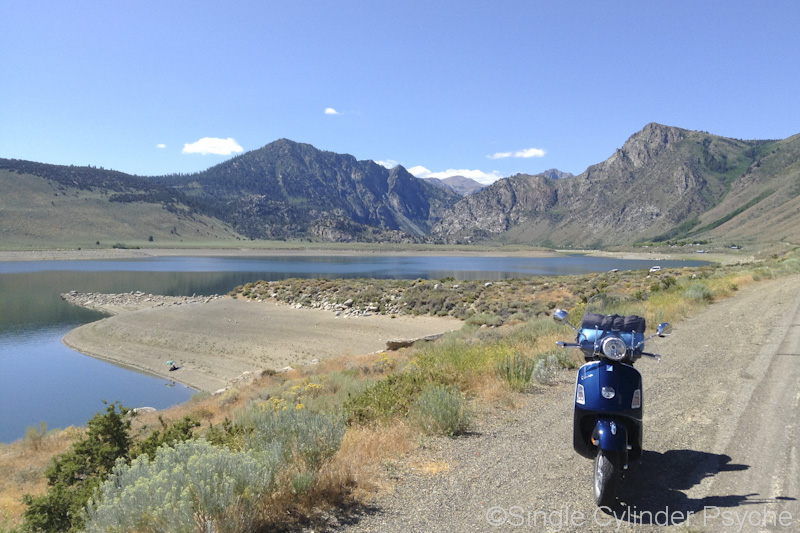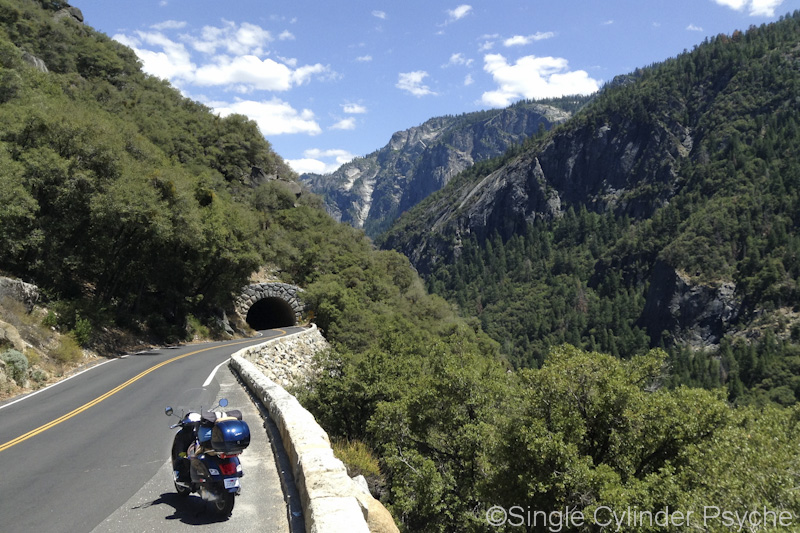 I think that anyone not at Lake Tahoe was at Yosemite…a mile long line of cars waiting to enter at the east gate and gridlock on the valley floor. But it was nice to be there. The scooter made it easier to get around, and no problem parking. The park rangers were handling things well.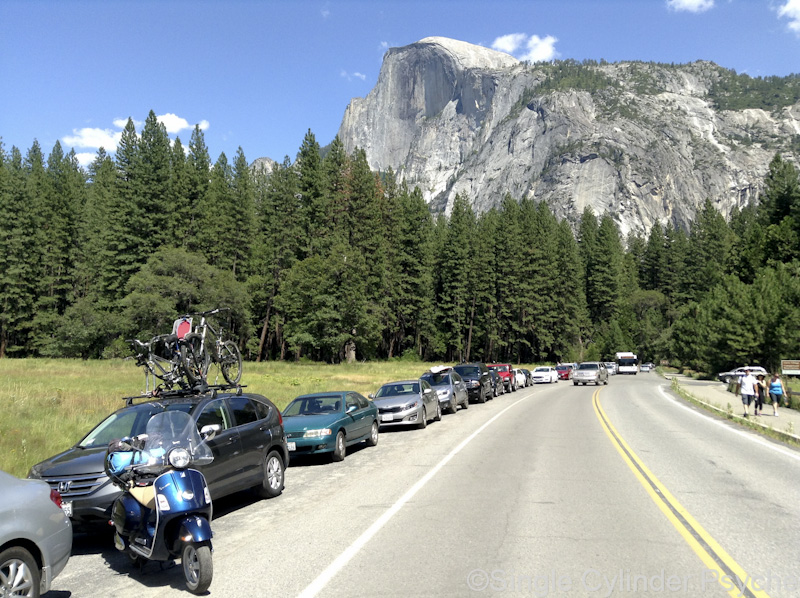 Overall the trip was enjoyable and accomplished its goals.  I learned a lot about what to pack and how to pack it for scooter camping.  As always, time on the road was a learning experience.   For those who like numbers: 740 miles, 77.9 mpg. Thanks for reading.